Ever noticed how some bikers only ride on Sundays and for others it's just something they do all the time, like breathing or eating? For me, a run to the shops for supplies simply does not involve my bike. With a family to feed and my bike's nonexistent luggage capacity, it'd just make the whole thing an awkward, difficult, milk-on-the-pavement mess. But for Sydney custom bike designer Wenley Andrews, it's not even a choice that crosses his mind.
As the owner of a custom shop in the city's far Northern Suburbs, there's not many four-wheeled options for him to choose from. "I customised a Jeep Wrangler recently, but I sold that to fund new projects," says Wenley in opening. "And the only other car I have is an old Porsche, which is now in bits before I start restoring it." So if you're in Sydney and you see a sweet-ass Harley chopper with a loaf of bread and a can of Baked Beans tied to the sissy bar, you'll know what's what.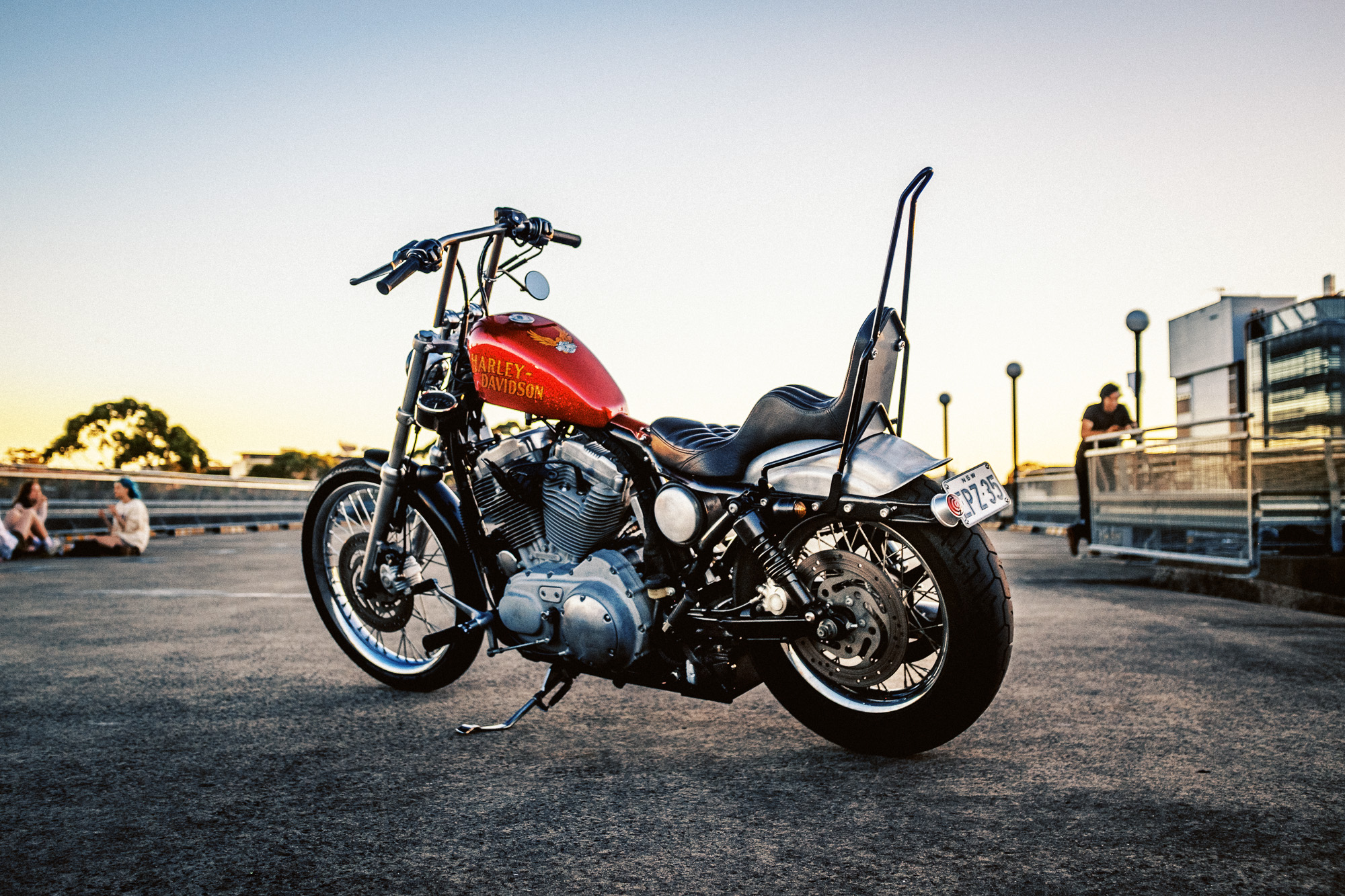 With plenty of time to shoot the poop during our photo session, I caught up with Wenley and asked him what he'd been up to lately, apart from building killer custom Harleys.
"I've recently opened up a new workshop in the heart of Mount Kuring-gai, in Sydney's far north; 'Wenley Moto Design' is what I call it. It's right next to Sydney's illegal test track, a.k.a. the Old Pacific Highway. It's one of Sydney's best moto roads. And I'm only two doors down from the Ekim Brewing Company. It's pretty much the perfect spot for a custom shop."
Always humble, Wenley probably wouldn't mention the fact that he won an Australian Good Design Award for a motorcycle he dreamed up and built a few years back. It was the first propper Australian electric motorcycle to go into full production.
With his head gears turning in the post celebratory glow, a light bulb moment happened and he thought to himself, "Why not open a custom motorcycle workshop of my own." So he did.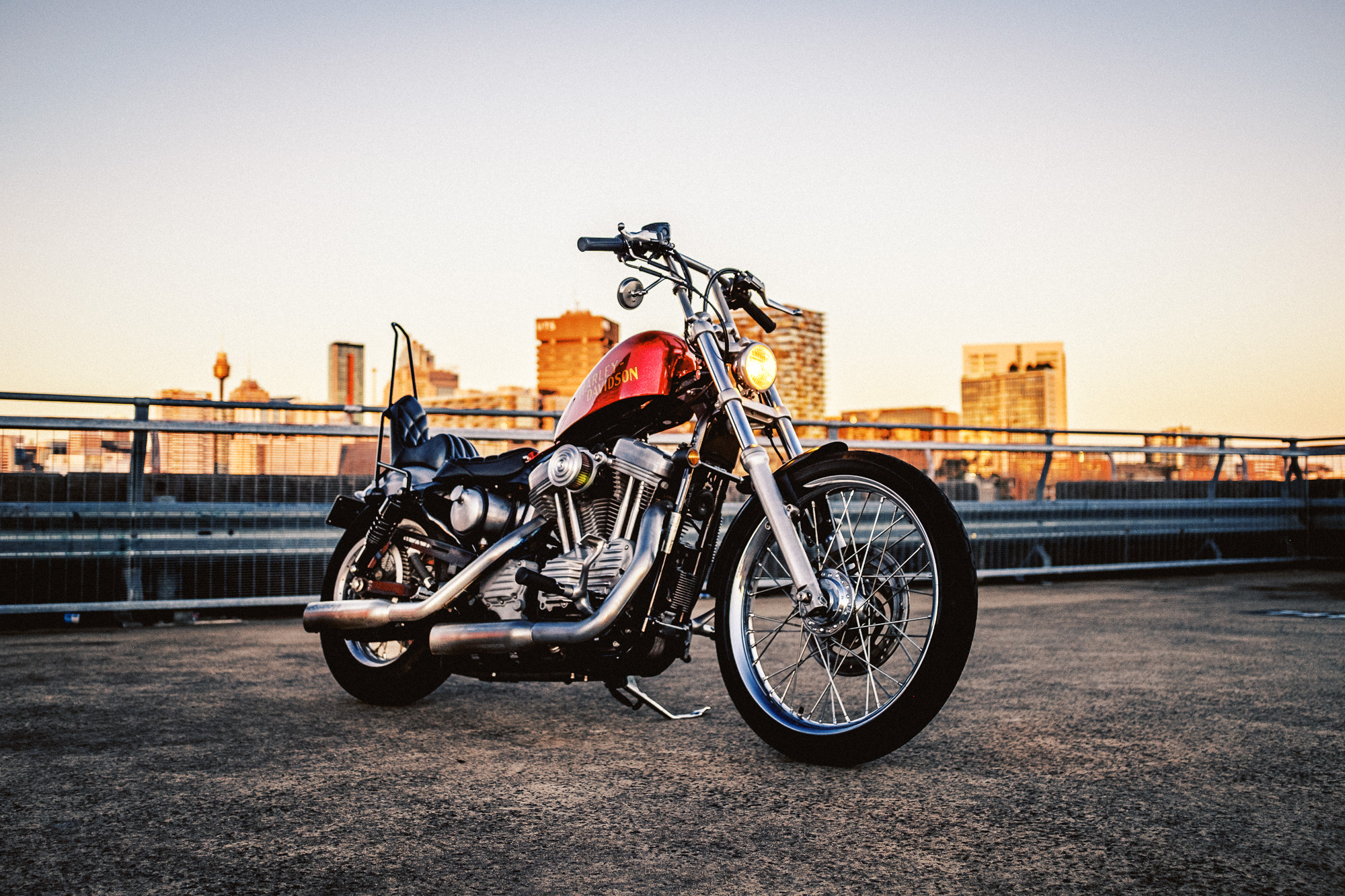 "Then the fun started," says Wenley, smiling. "I've been open since March 2021; my Harley you see here was built for me as a daily ride. I use it to go to the shops. Groceries. Lunches. Spare parts—you name it. It's an absolute blast to ride. Nimble and quick on the throttle. Also, it's loud as fuck." That'd explain the blood running from my ears, then.
"The idea for the bike was to use parts I had lying around, and fortunately, I always have great parts," says Wenley with a wry grin on his face. "The first mod was the Biltwell window bars and some custom raisers. Next, I had a brand new Sportster tank, which was modified to sit slightly higher and more towards the back; it's now positioned perfectly above the engine."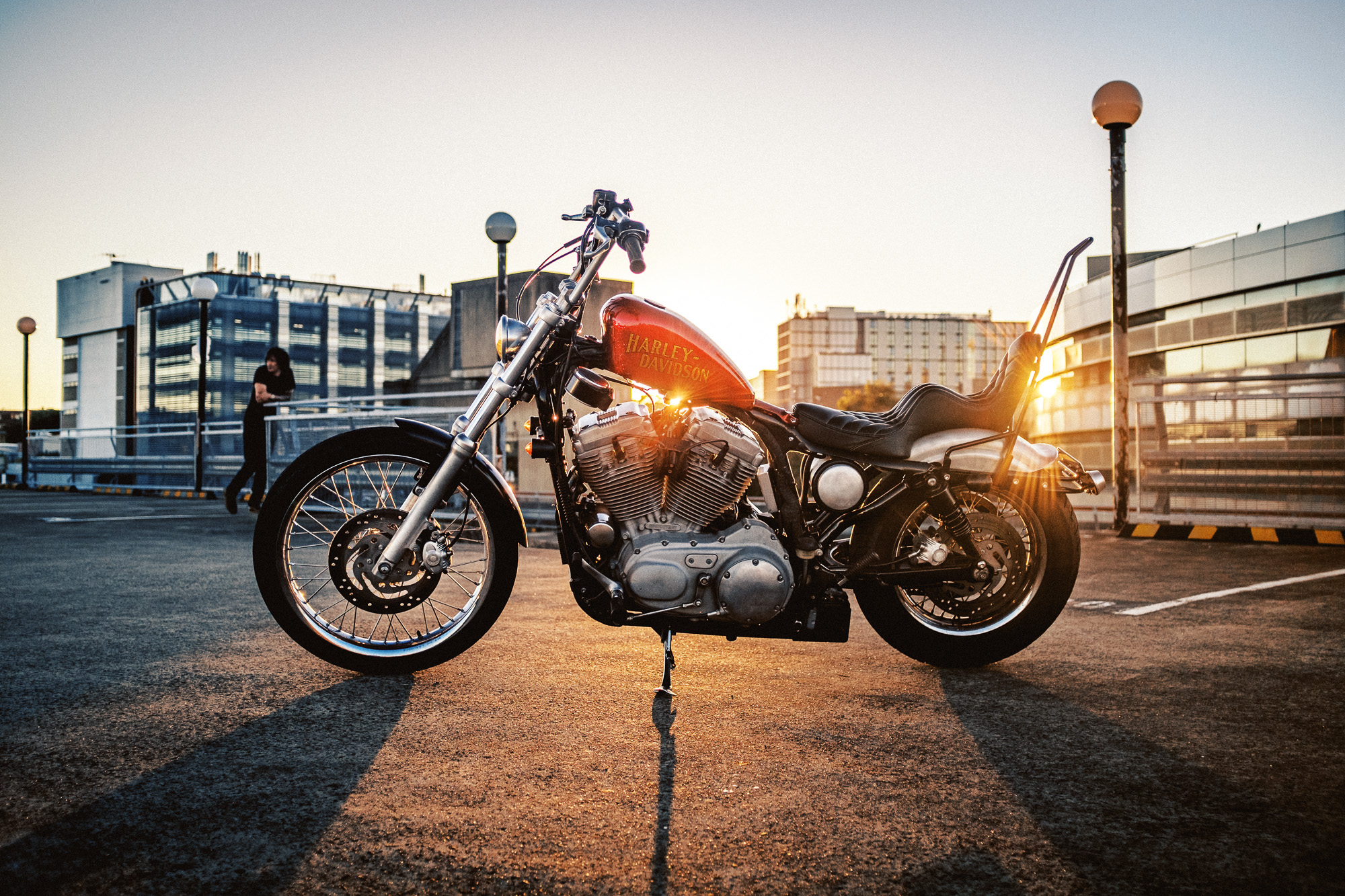 With its position sorted, the tank was then treated internally, painted in an awesome flake candy red, and gilded with an airbrushed eagle and Harley logo in gold. "I think there's about six coats of clear on this thing. It's nuts. Massive thanks to Pete from Cutting Edge Paint; his work is the real centerpiece of the bike."
Next, Wenley fabbed up the rear fender, which was also modified to include a heavy, reinforced bracket underneath the passenger seat. Those overindulging this silly season need not worry here.
And with a stepped seat pan built to fit, it was off to the trim shop. "Dave at Bad Ass Trim Company nailed it for a beautiful leather perch finish perfectly, as always," notes Wenley.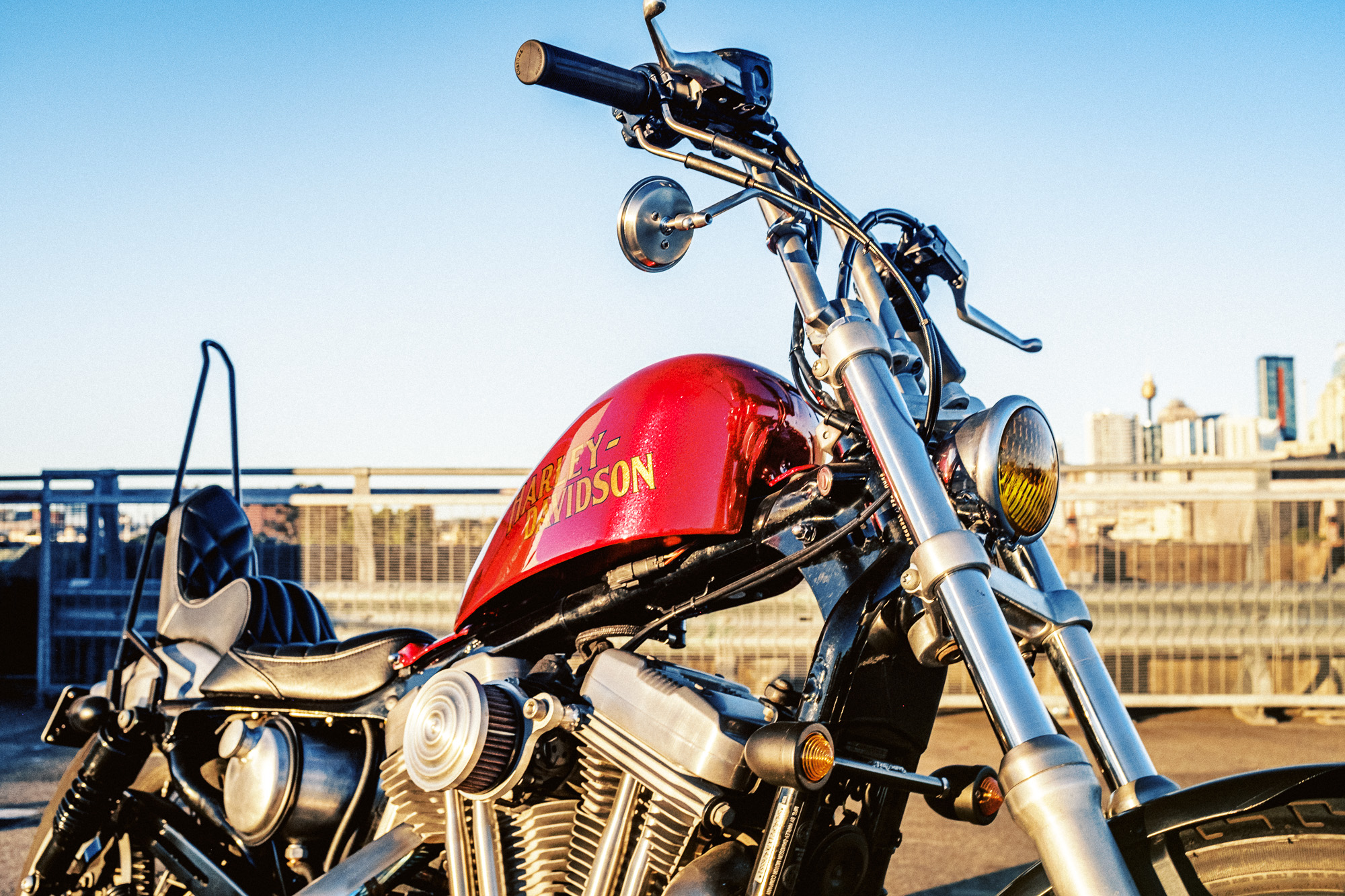 "I told myself this wasn't meant to be a wild custom, but I couldn't stop there and I decided to keep going. As I really wanted to keep this as a shopping trolly and daily rider, obviously it needed a sissy bar to tie my bag to for shopping.
"So I designed and laser cut some brackets to mount my custom-bent item. Then it was time for the license plate mount. As some people may know, it's not really legal to have one-sided plate mounts in Australia, so I decided to improvise."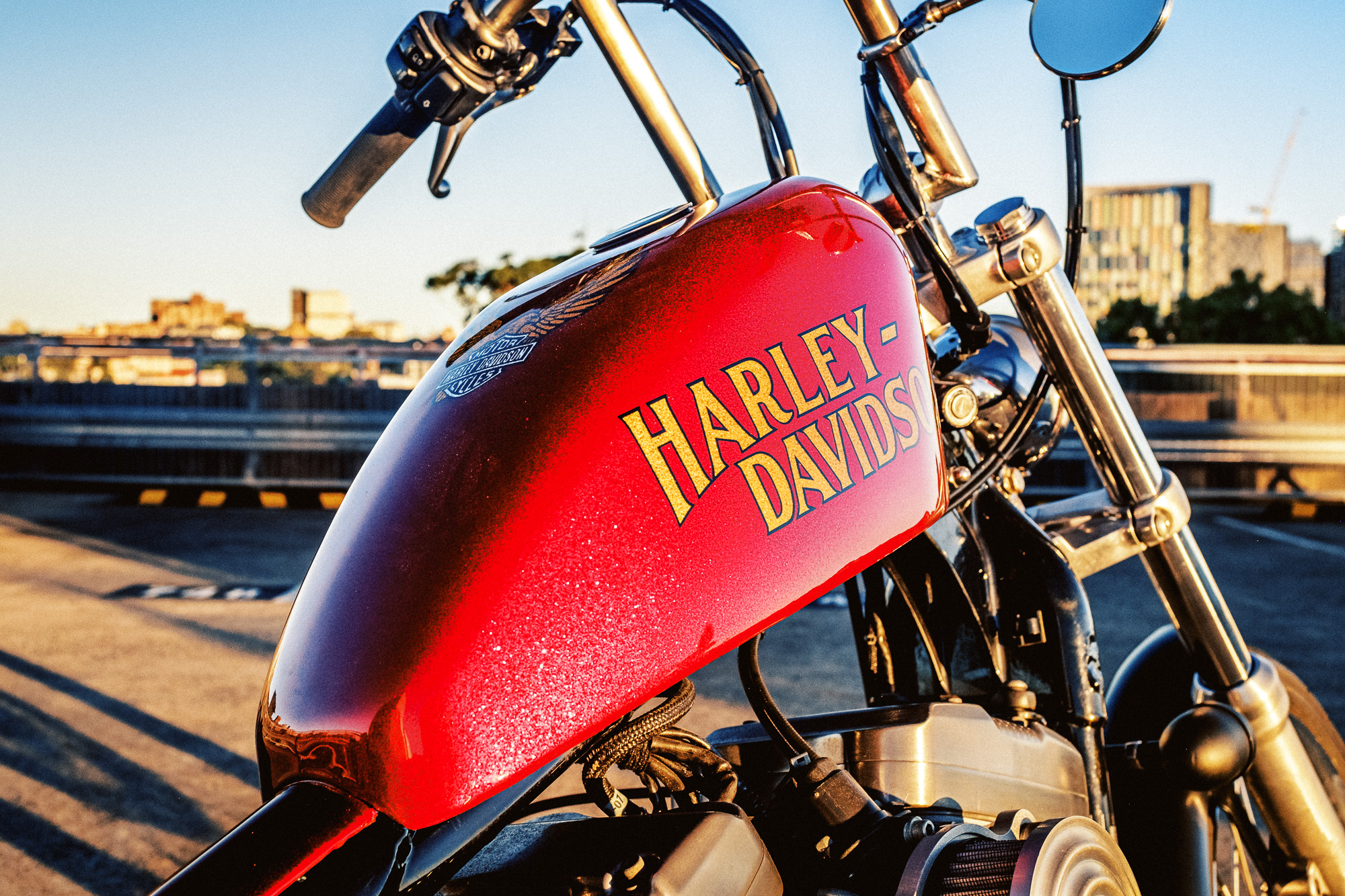 State laws here dictate that plates need to be mounted to the 'mid rear' of the bike, but strangely there are no similar rules regarding the stop light, hence its new location on the left. "The whole thing works well, and it also seems to keep the water from flicking up onto the bike and rider on rainy days," notes a comfortably dry Wenley.
"The guiding thought here was to keep it all within the road rules as I was going to fang this around everywhere and I didn't want to attract too much attention from the law. With that said, I'm not so sure about that air filter. Time will tell, I guess. And yes, it also was another spare part from my collection."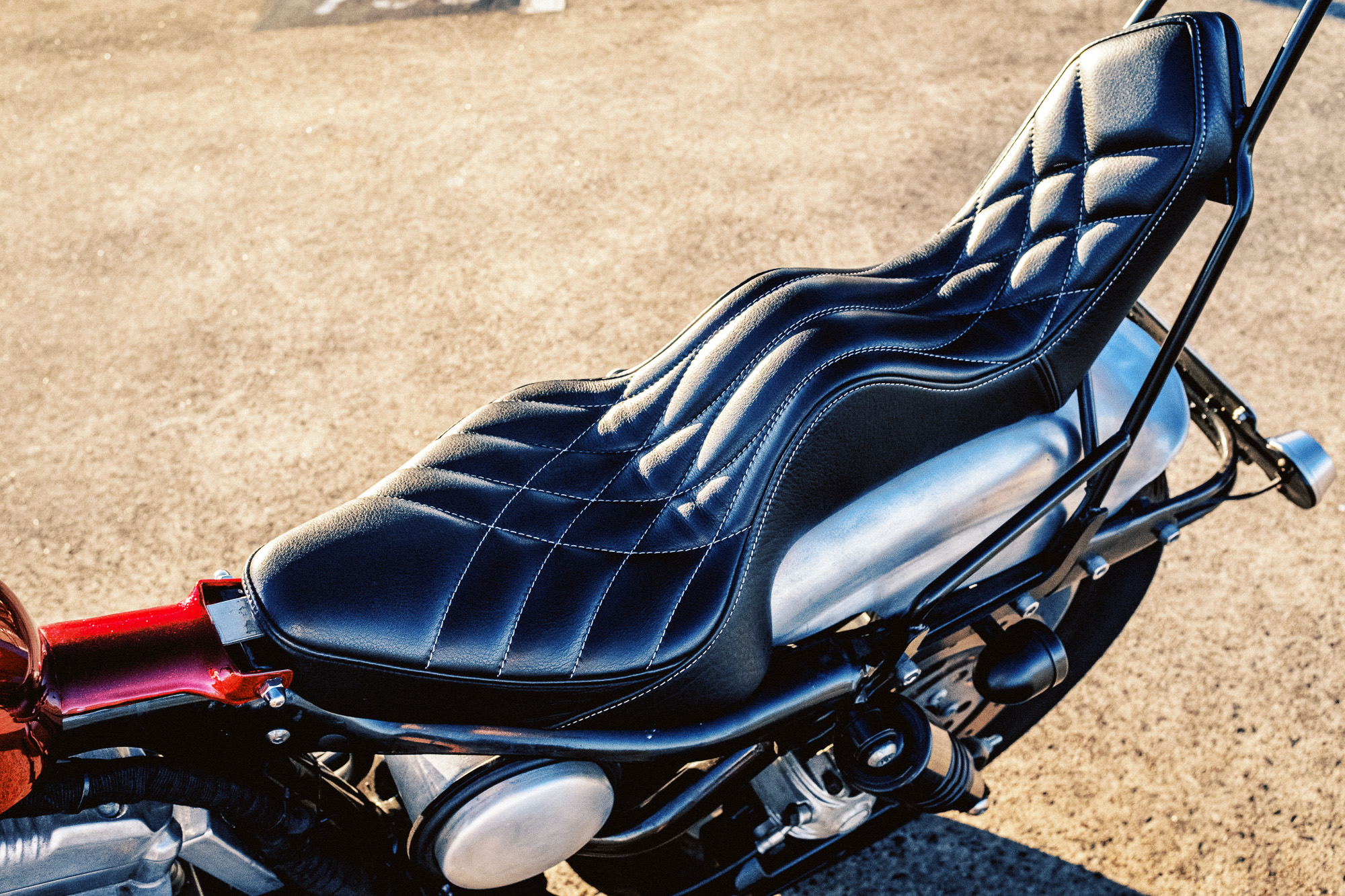 Wenley then shortened the front fender, added a Bates yellow lense 4.5″ headlight, shortened the chain guard, and mounted some Burly brand Slammer shocks. "I rode it like that for a while and then came across some finned engine covers.
"Annoyingly, they didn't look that nice on the bike. I tore them apart and modified them so the engine has an old school look that appealed to me. Then I had to make a big decision; do I remove the existing oil tank and replace it with the super cool Moon tank that I purchased seven years ago?"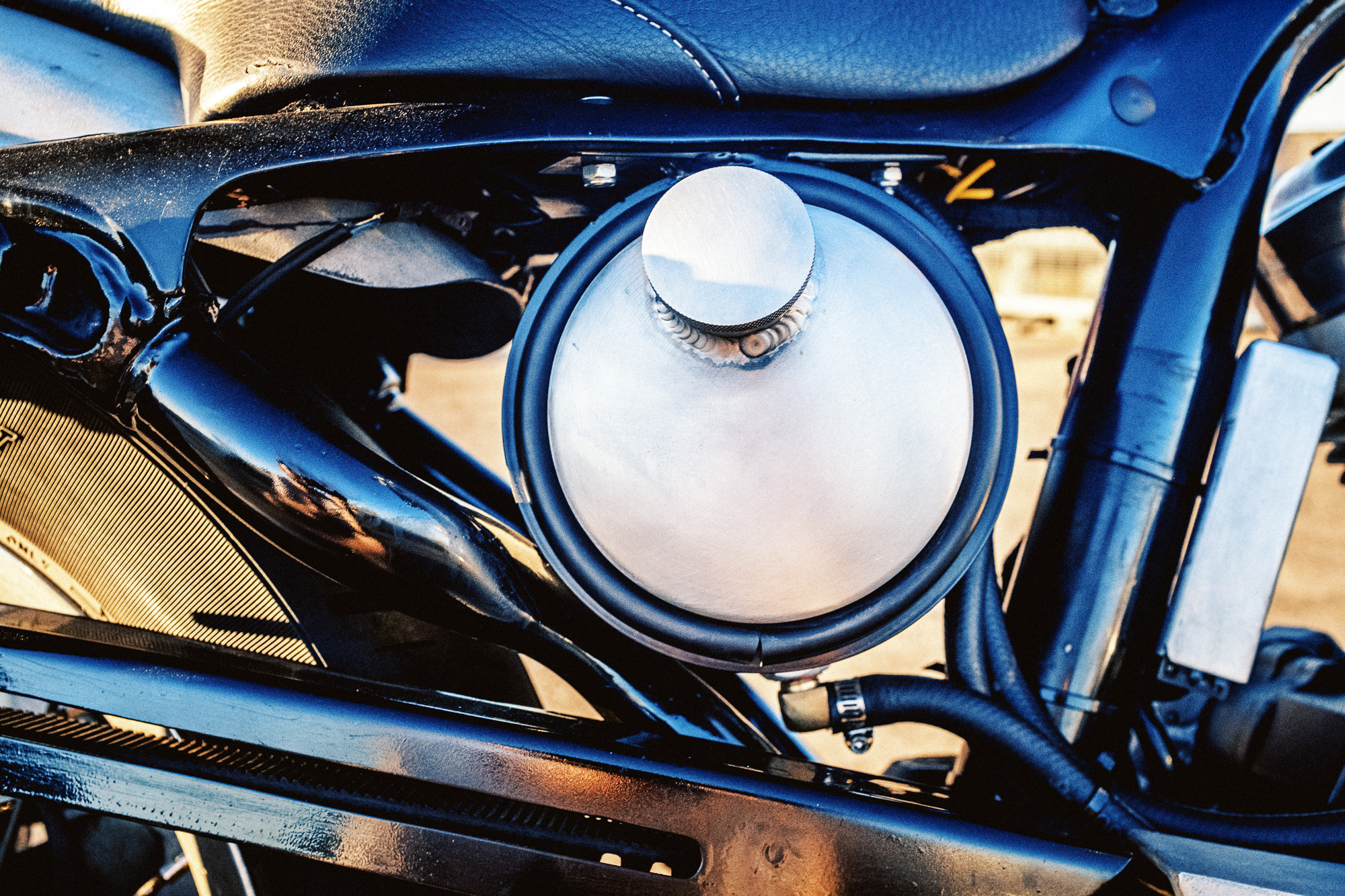 "It was a no brainer. Of course I did. But little did I know that this was going to be a very challenging exercise—not because it was hard to do, but because of the amount of wires and relocation required for the other components. Where on earth do you put the battery, CPU, fuses and the rest of the gear? But the original tank was out, so there was no going back now."
Wenley ended up fabricating a laser cut 'under pan' to house the battery and the CPU, and another alloy box to house all the fuses. "It took me about four days to reroute all the wires while making sure nothing was rubbing.
"I also added a 'no key' system while I was doing all this. It's so damn handy. You just walk up to the bike with the fob in your pocket, it turns on and you ride off with no key fumbling necessary. It makes my life so much easier when I'm in a hurry with a hot burger and fries in my bag."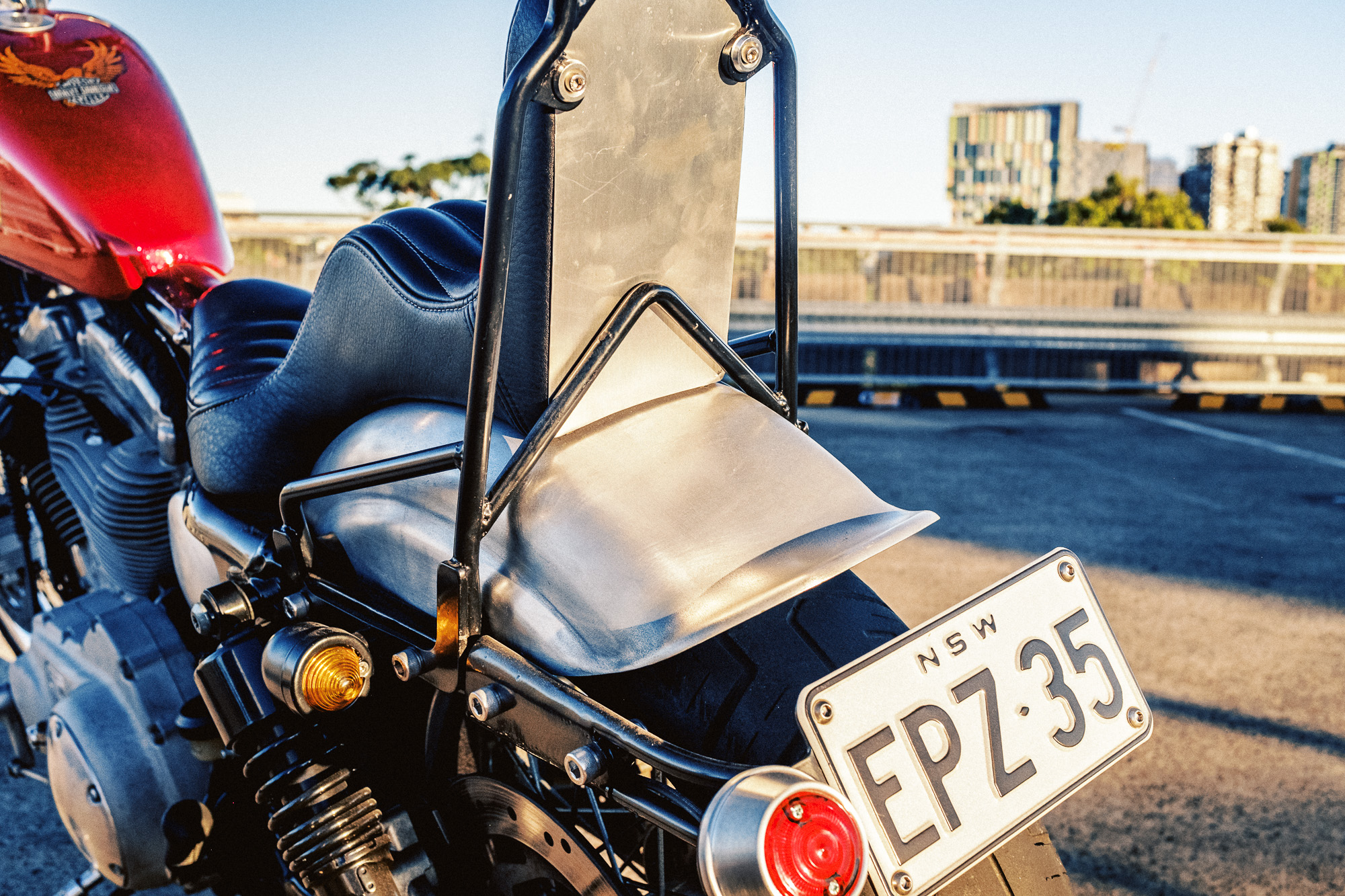 "What do I like most about the finished product? It's just so easy to ride. And it always puts a grin on my face. From the get-go, it was made to ride everyday while smashing through traffic like a hot knife fanging through butter. And it does that perfectly." Yeah, but just how hard is Wenley's butter after it's been carried through a Sydney summer on the back of a smoking hot Harley? Butter soup, anyone?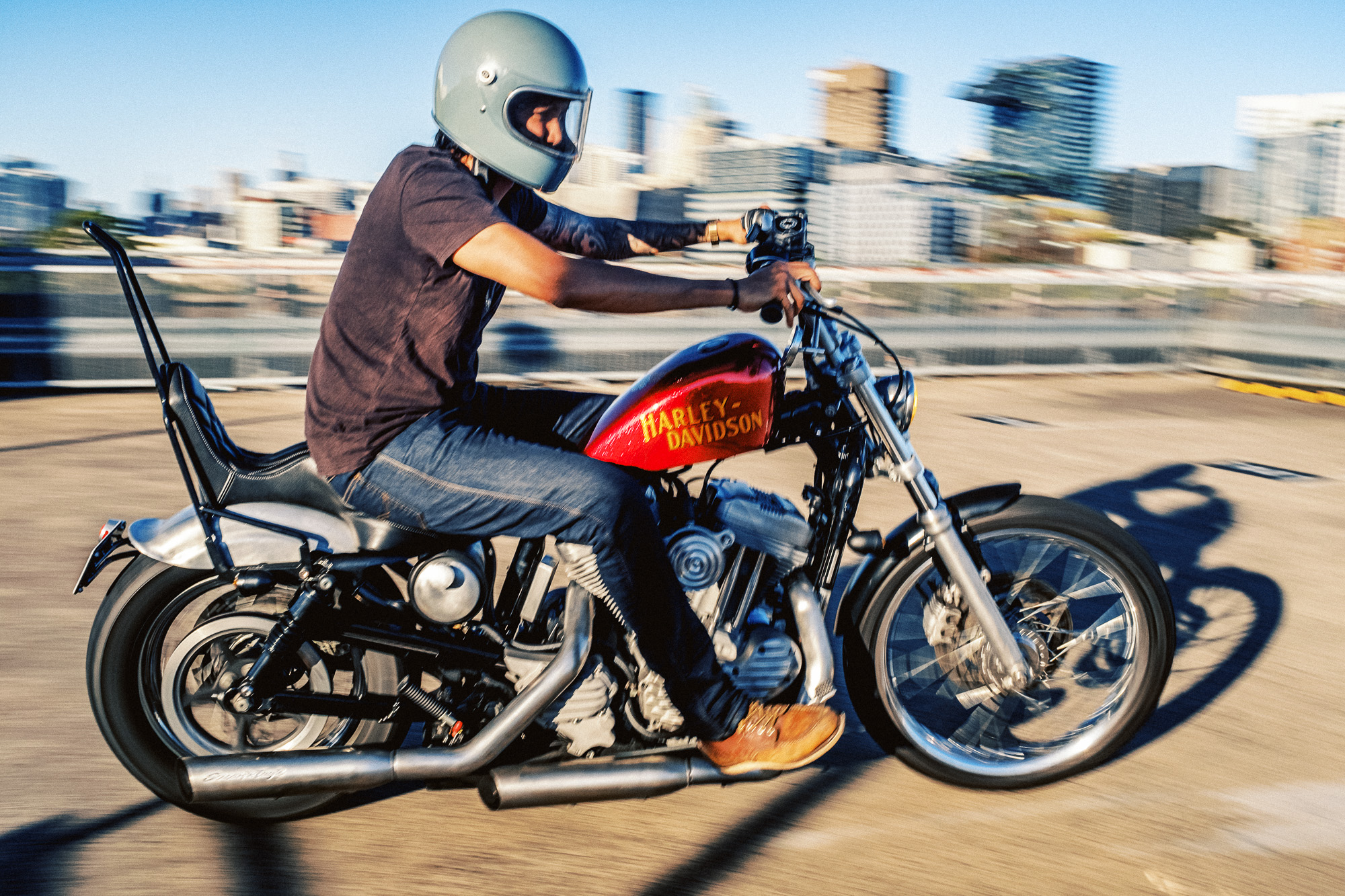 Wenley Moto Design | Instagram | Photos by Machines That Dream